hi all!
if you have been reading for awhile then you may remember me referring to my dinner divas group every now and then. it was a group of moms that would make one meal and make enough for everyone in the group each and then we would get together and trade - so if there were 6 that month i would make 6 meals worth of something, one for me and 5 for the others. then i would come home with 5 different meals for the freezer and i LOVED it - totally relied on it. well the group has disbanded for now so i was really missing it. after a little internet research and purchasing the book
Don't Panic Dinner's In the Freezer
i have begun a new plan. i do all the cooking myself but it is an excellent plan. the book has some good tips and points but i will also be adding a couple other books that look interesting. i check the grocery store ads, see what meat and other items are on sale and stock up or go to costco. and then i make a bunch of meals each time i cook. so the other day i made white chicken chili and i made 4 batches instead of 1 - which is actually not all that much more work than making one but now i have 3 instant meals with the extra fixings all ready to eat! so last night pezza and i got out 6 pounds of ground beef and made 4 meatloafs with the sauce and the mashed potatoes in with them - i cooked two so i could have some already cooked meals in there and some that need to be cooked but i can just pull them out and toss them in the oven. then we made 26 sliders with cheese and the burger buns are in the freezer too. it took about 2 hours to prep and made a huge mess but again not a whole lot more than making ONE meatloaf or batch of sliders would have made. this will free me up to do other things like stay in my craft room longer! i am thinking if i cook 3 x a week and 2 of those times i make 3-4 batches of whatever i cook then i will get to a point where i cook 3x a week but we have homemade meals every night! i have to tell you it is quite a feeling of accomplishment! and the grocery shopping is easier & cheaper too! buying for 3 meals as opposed to 5-7 - it takes less money & time to just buy a little extra of the same ingredients than all the different things for lots of meals! Next up will be chicken pot pies!
of course bubba kitten helped:
onto the crafting!
i am submitting this project for the following: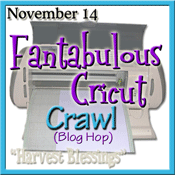 (it's not a card but i hope it counts)
Creative Card Crew
- Thankful
Cardmaking Mommas
- be thankful
be sure to check them all out!
now i set out to do this using the Elegant Edges cricut cartridge. you all know i love love love my cricut. but i was not loving it yesterday. to make a long, painful story short i needed to make one of my cuts 11.5" and it would only go as large as 10.5". tried to use design studio, which needed updating and took forever, but it couldn't seem to cut to either my I or my E2 AND the E2 would not recognize the cartridge - kept telling me cartridge error. i couldn't update or "sync" it because my computer refused to recognize that it was connected. ok i will give Cricut Craft Room a try - the free new online version of design studio. it wouldn't cut to either machine or recognize either of them was plugged in. by bedtime last night, after working on it ALL DAY i had only gotten as far as picking out my papers. so i chucked my original idea and did this layout for our thanksgiving day pictures:
HOWEVER, i do love the idea of taking a day out to be thankful - i think it is something that is too often overlooked and yet the single most important key to a happy life. my life has been filled with blessings and the more i keep them in mind the better my day goes!