Hi all!
We got a few days of warm weather around here and I feel like I have been re-born!!!! I saw the greatest video on Facebook. Isn't it funny how 47 degrees in Fall feels so cold and 47 degrees in Spring makes us want to run around in shorts! I am itching to get back out in my gardens again!
Today is my turn to post my design team project over on the ColourArte blog - here is a little sneak peek at it:
I would love for y'all to go check it out -
ColourArte Blog
You have to go to the ColourArte blog to see the full project AND detailed tutorial BUT I do want to take some time here on my blog to add to my Cricut Explore reviews I have been doing.
A HUGE reason I decided to take the plunge and get the Explore is because it was able to cut a wider variety of materials than the previous Cricuts. As many of you know I love to create mixed media pieces in addition to traditional scrapbook layouts (I don't know hwy but i CANNOT mix the 2...) One thing that is very popular and I love for mixed media are all the wide variety of chipboard die cuts you can purchase like these cute little things: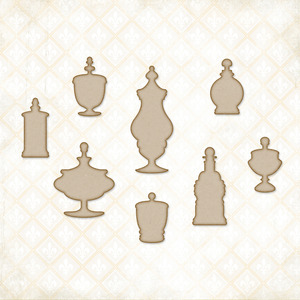 BUT it can get expensive and you are limited to the designs and sizes someone else chooses. NOT SO if you have an Explore! AND with the Explore my chipboard accents and bots are now layered and multi-dimensional!
Above you can see the two "chipboard die cut" items I used for my DT piece - a bird cage and an art deco tulip floral corner piece.
They are not terribly large, they are intricately detailed and I cut them from an empty pop tart box!!!
And the craziest part - zero trial and error here. I sat down prepared to spend the day experimenting until I could get it to work and these are the first 2 cuts I did - perfect. I was astonished! And NO special blade needed either! Nope, no deep cut blade. Just the regular blade, the super strong adhesive mat and I chose the custom setting and picked chipboard - light and away it went. Oh the ideas I have now...!!! If you want to see how I painted them remember to hop on over the the
ColourArte blog
and see my post!
When I originally began this piece I meant for it to be in the current
Bitten By the Bug 2
challenge - Bird Cages but now that I had to post it on the ColourArte blog I am not sure I can enter it. Maybe their next one!
Also right now you can take $10 off your purchase of ColourArte products! Just enter the coupon code artfulheart when you check out!